JUNE BIRCHBOX
this month's june birchbox was focused on traveling, devoted to long-lasting wear and "ready-to-go" packaged samples.
in my birchbox there was a cheek + lip stain, an eyeshadow stick, two self-tanning towelettes and a facial moisturizer with sun protectant (a plus for me, since i burn like crazy).
- also included is a very adorable ziplock bag by tili, pictured here:
right now all of my birchbox goodies are in it! a pack of 9-12 of them is $8.49-$9.49. i probably would not splurge on ziplock bags but i do like that they are reusable and very cute.
- next is a product from theBalm's "Stainiac" in a shade called Beauty Queen. it is a gel stain. i love any and all stains, and this was probably my favorite sample! it's a rich, rosey color and is pretty faint with just one swipe on the lips, but stands out much more after applying two coats. it's gorgeous. here it is:
the full-sized Stainiac is $17, which i will say isn't bad for a stain of this quality. it's a very fun and versatile color also, which is a plus.  
- i also received Likewise's facial moisturizer. i have very dry skin, which is a huge problem especially in the cooler months.  i like this moisturizer a lot because it not only has SPF 50 in it, but is designated for lizard-skinned people like me! it is supposed to help people with normal to oily skin. here's a picture:
i would buy this product. the only thing negative i have to say about it is that it smells a little too much like sunscreen. but that's just personal: i really don't like the smell of sunscreen. still, it's also pretty expensive for a girl on a fresh-out-of-college budget. the full-sized version of this product is $44.
- one of my favorites that i received is Eyeko's Fat Eye Stick in a creamy charcoal color. it is richly pigmented, but can easily be blended into a very nice, soft grey. i also love that it's a twist-up stick. here's a picture: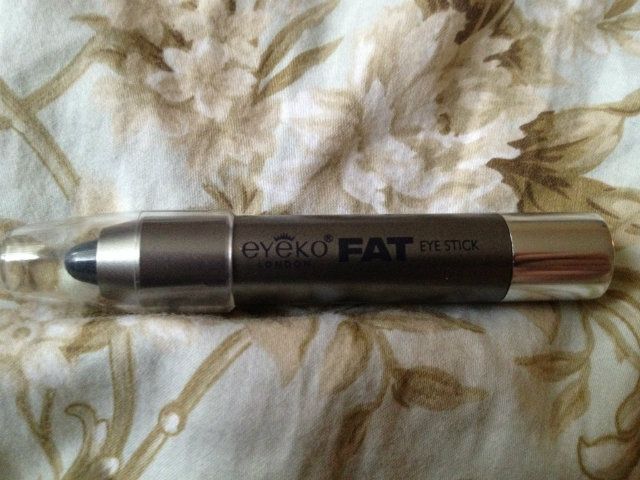 i was excited to try an Eyeko product since i have heard so much about other Eyeko products from UK bloggers that i follow. i used it yesterday and will say that it lasted the entire day, up to eight hours of incredible wear! let me add that it was also a very humid 93 degrees yesterday.
i know that Sephora sells Eyeko, but i think they may only sell the mascara. if Eyeko were more accessible i would definitely buy more from this brand. that's really the only negative about what i have. it's a really lovely shadow stick and i will definitely use it, but i can't buy anything else Eyeko in the US! if anyone knows a shop that sells Eyeko, please let me know! the full-sized stick is $15. not bad. 
- this next product i will admit, i was very skeptical of. it's Comodyne's Self-Tanning towelettes. as previously mentioned, i am pretty ghastly-white. i applied one towelette to my legs about thirty minutes ago, and it is supposed to take about three hours for the wipes to work. i am already seeing a nice golden color on my feet, and am hoping my legs will be that color in just a few short hours! i will probably update this part later tonight. here is a picture of the towelettes in their packaging: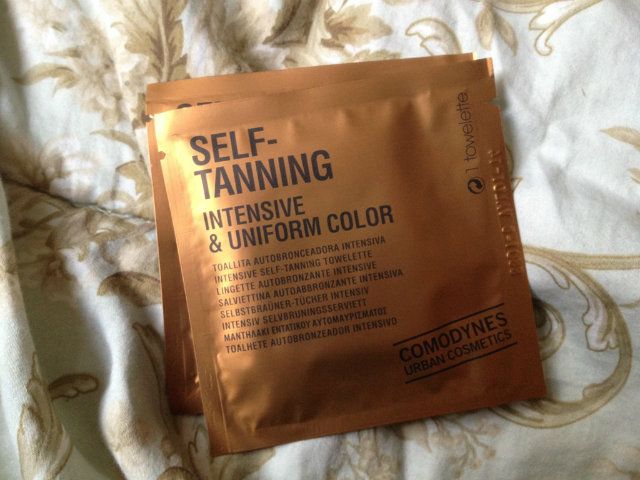 the only negatives i have so far is that Comodynes is also another UK-based brand, and it might be hard to find these towelettes in the states without going to ebay. the color on my feet is also a little too dark, but i have yet to see my finished legs. anyway, the towelettes are very fresh-smelling and are so far giving an even tan—not at all streaky. a pack of 9-12 of these ranges from $8.49-9.49. i would tell all of you that love a good tan to buy these, but to maybe have a base tan before using them. 
- i also received a vial of John Varvatos' "Star USA" cologne in honor of father's day and to promote their Birchbox Man boxes: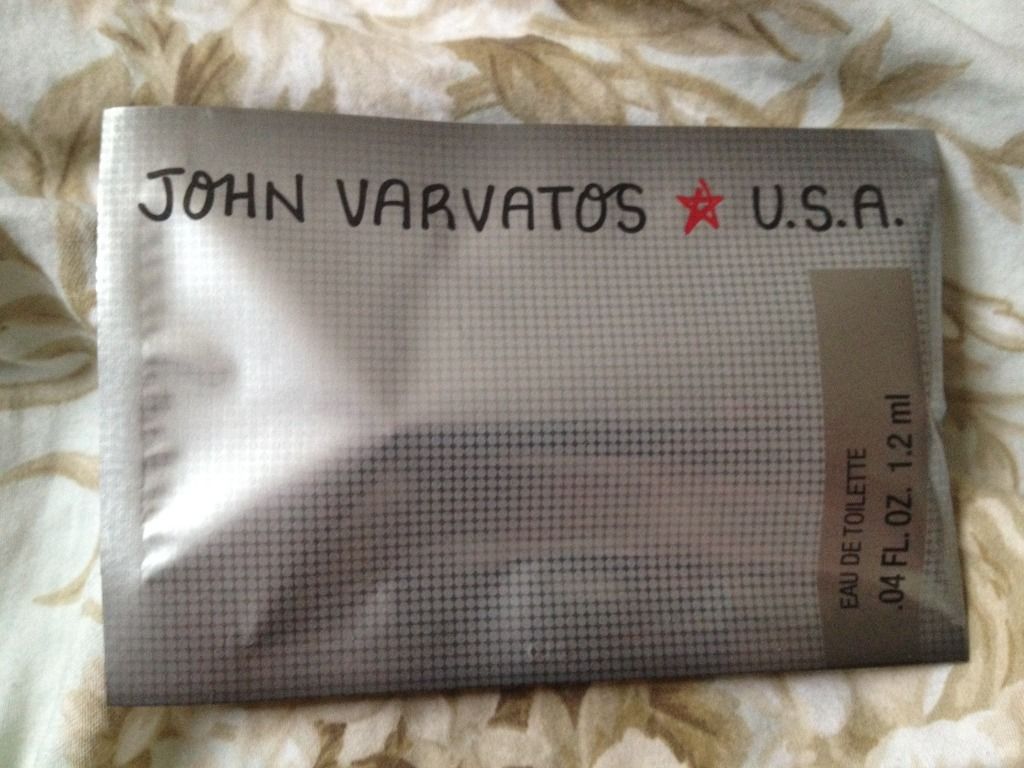 i am giving it to my dad, and hopefully he will have something nice to say :) it is a blend of ginger, juniper, berries and vetiver. he joked that if he didn't like it, that he would just cook something with it, haha. the full-sized version of this cologne ranges from $55-$70.
overall i really liked my Birchbox this month! the samples were all very good quality and weren't nearly as underwhelming as my first Birchbox, which i am debating blogging about (if you want me too, feel free to let me know in my "ask" box!). not to say that i didn't have some favorites from it, but i liked my june Birchbox much more. the may Birchbox was Gossip Girl themed, which maybe with a stretch of the imagination will say that it was…kinda. 
as i've said before, i would recommend Birchbox to anyone! a women's subscription is $10 a month and a Birchbox Man's subscription is $20. both are well worth it. hope you enjoyed my first attempt at blogging since my middle school days!